Whether it's a recent sprain, a sports injury, arthritis, or an injury from years ago that persists in causing pain, the therapy department at Osceola Regional Health Center can help you feel better.
We provide a broad range of services including physical, occupational and speech therapy.
Call 712-754-5368 to schedule your therapy session today!
Physical therapists provide education and treatment to patients who have a temporary or permanent disability. Treatment methods may include exercise, manual therapy, bracing, injury prevention, and management principles and modalities such as ultrasound and electrical stimulation.
Occupational Therapy
Occupational therapy treats issues that arise from a disruption in a person's occupations. Occupation is everything that people do to occupy their time, including self care, cooking, crafting, achieving developmental milestones, or work. Occupational therapy can increase independence with a variety of diagnoses including:
Alzheimer's
Autism
Congenital heart failure
Dementia
Developmental delays
Diabetes
Lymphedema
Mental illnesses
Painful hands and arms
Parkinson's disease
Spinal cord injury
Stroke
Wounds, fractures and joint replacements
Speech Therapy
Speech-language therapy addresses issues with communication, memory, problem solving, swallowing, sound production, stuttering, and voice for all ages.
Aquatic Therapy
Aquatic therapy is a specialized treatment method used by therapists to help patients recover with better results. Water improves motion and flexibility, helps muscles relax and reduces pain.
Hand Therapy
Hand therapy is the art and science of rehabilitation of the upper limb, which includes the hand, wrist, elbow, and shoulder. It combines comprehensive knowledge of the structure of the upper limb with function and activity. Using specialized skills in assessment, planning and treatment, hand therapists provide therapeutic interventions to prevent dysfunction, restore function and/or reverse the progression of pathology of the upper limb.
Back and Neck Therapy
Physical therapy for back and neck conditions focuses on the structures that support the spine and its joints including muscles, tendons, and ligaments. It uses active techniques (such as education and assistance on strengthening muscles, restoring muscular flexibility, joint mobility and spine motion) as well as passive techniques (ice, heat, ultrasound, traction, electrical stimulation). We also provide education on proper posture and ergonomic principles so you can be more aware during normal activities.
Orthopedic Rehabilitation
After an orthopedic injury or surgery, we are here to provide expert, quality care. We will help you rebuild strength and function and get you back on your feet as soon as possible.
Neurological Rehabilitation
When disease or injury affects the nervous system, we can use exercises and programs to improve movement, function, speech, and activities. We can assist with improving your quality of life following visual impairments, stroke, traumatic brain injury, Parkinson's disease, or Alzheimer's disease.
Sports Therapy
Sports medicine therapists use manual therapy, stretches and exercises to reduce pain, increase mobility and improve overall performance. After an injury, sports therapy can be used to improve athletic ability and prevent future injuries.
Appointments & Referrals
Physical therapy, speech therapy and occupational therapy services require a physician referral. For questions, call the therapy department at 712-754-5368.
What to Expect
Arrive 15 minutes before your first appointment to complete the registration process. This appointment will last 45 to 60 minutes.
The duration of subsequent visits (typically 30 – 60 minutes each) are based upon evaluation, plan of care, and conditions.
Your therapists will consider your condition and the doctor's order when establishing the frequency of your treatments. Therapy sessions will continue until you and your therapist decide that you have reached your desired level of function or that further skilled therapy would not be beneficial.
What to Wear & What to Bring
Wear loose-fitting clothing that allows your therapist easy access to the area needing evaluation and treatment. Gowns and shorts are available if you need them. Bring tennis shoes as exercise is important to treatment most disorders. You'll also want to bring your:
Insurance card
Driver's license or photo ID
Doctor's prescription for therapy, if you have one
Insurance & Medicare Coverage
Insurance coverage rules vary from company to company. Some insurance plans have a deductible to be met first, some have co-pays, some have both. You may also require a prior authorization before starting any therapy, but this is completed by our staff.
Our office staff will verify your benefits and discuss them with you. Contact your insurance company for more information on your plan.
If you have Medicare coverage, therapy is covered if it is considered medically necessary. A physician must approve the plan of care by reading and signing the evaluation and goals we have set for you.
Cancellations
Notify us as soon as possible (preferably within 24 hours) of any appointment you are going to miss so we can book another patient in that slot.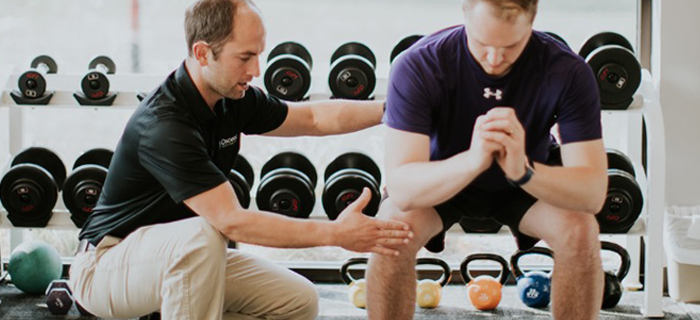 Health Fact
Physical therapy can help you avoid surgery for an injury or pain. And even if surgery is required, pre-surgery physical therapy can help you recover faster.